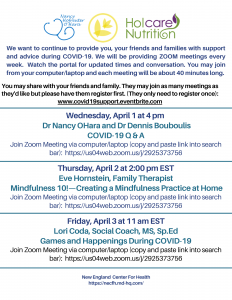 ASPIRE is happy to announce that New England Center for Health, lead by Dr. Nancy O'Hara (ASPIRE Professional Advisory Board Member), Dr. Lindsey Wells, and Vicki Kobliner will host zoom calls regarding various topics surrounding COVID-19.  We will be updating this post every week with the new schedule. Please see the information below and click on the public portion of their patient portal, which has easy to copy links and information on calling in. 
Click here to Register Once for All the NECH Zoom Meetings: You may share with your friends and family. They may join as many meetings as they'd like but please have them register first. (They only need to register once)
NECH Portal

---
Wednesday, April 1 at 4 pm
Dr Nancy OHara and Dr Dennis Bouboulis – COVID-19  Q & A
Join Zoom Meeting via computer/laptop (copy and paste link into search bar):  https://us04web.zoom.us/j/2925373756
Thursday, April 2 at 2:00 pm EST
Eve Hornstein, LMFT – Mindfulness! -Creating a Mindfulness Practice at Home.
Join Zoom Meeting via computer/laptop (copy and paste link into search bar):  https://us04web.zoom.us/j/2925373756
Friday, April 3 at 11 am EST
Lori Coda, Social Coach, MS, Sp.Ed

– Games and Happenings During COVID-19 with

Join Zoom Meeting via computer/laptop (copy and paste link into search bar):  https://us04web.zoom.us/j/2925373756