Share and Learn from Each Other
We all have a story to tell. It is important for those who are living with PANS/PANDAS to share their experiences with others. It lets others know that they aren't alone. They can read what you've gone through and think, "this is what I needed to read today."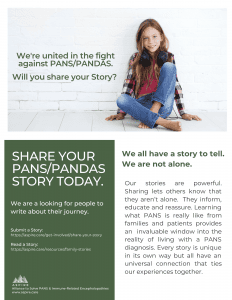 Our stories are powerful. They inform, educate, and reassure. Learning what PANS is really like from families and patients provides an invaluable window into the reality of living with a PANS diagnosis. Every story is unique in its own way but all have a universal connection that ties our experiences together. We are not alone in this diagnosis. We can support and learn from each other. Please read through the stories. We highly encourage you to submit your Personal Story today!
Writing Your Story
Decide what to write about. You won't be able to cover everything in one blog story, so choose a period, or a specific issue that you have faced. Here are a few suggestions:

What were the most severe symptoms and were treatments effective
Your diagnosis journey
Your recovery journey
Examples of before onset in contrast to after
A moment that stands out
A time you felt strong
How you advocate for the PP community
Ways you help to raise awareness for PP
Difficulties in explaining the condition
Changing relationships with people in your life

What impact has this PANS/PANDAS had in your life? Why is your story important?

Do you have any tips or advice you'd like to share? What would you say to someone going through a similar experience? Please do not attempt to provide medical advice!
Guidelines
We don't need to use names at all in order to preserve anonymity.
Pictures are not required but appreciated
Stories should be 1500ish words or less.
Stories should not include doctor's names. Please include what kind of doctor you saw, i.e., immunologist, pediatrician, naturopath, etc. 
The Personal Stories section is neither a platform to sell any products or a type of therapy nor one to discredit a doctor or institution.
ASPIRE has the discretion to publish a story or not and will edit for fundamental typos and grammar. ASPIRE may request that you provide additional information as needed.
 5 tips for writing about your PANS PANDAS:
Write as if you are talking – Stories work best when they are conversational. Use words you would usually use.
Don't be afraid to share the difficult parts. It can be daunting to share experiences that have been challenging, but describing them could help others going through similar things. You might be able to help others by sharing how you coped with your experiences, and what support helped you (whether from friends, family, a patient organization or support group).
Stick to specific events rather than writing about everything you have been through. It is generally more impactful to focus on a significant period of your life.
Describe how the events or obstacles have made you feel. It is easier for readers to relate to feelings than objective descriptions of events.
Please email the ASPIRE Content Chair with any questions. Please submit your story and photos below.