We encourage clinicians, teachers, providers, extended family, and friends to understand the human aspects of PANS/PANDAS as symptoms are often so distressing, causing high levels of caregiver burden. 
Picture your competent, happy, functioning, well-adjusted child suddenly incapacitated by new or suddenly worse neuropsychiatric, physical, cognitive, neurological symptoms. They are barely recognizable. Their and your life has changed sometimes overnight. You struggle to find appropriate, affordable care, and your support system often disappears. PANS PANDAS is stressful, heartbreaking, exhausting, and scary. This diagnosis happens to the entire family; every member needs support as the burden is profound.
Please take care to read about the exceptionally high Caregiver Burden Index (CBI), which is similar to Alzheimer's and more than Cancer. We also explore some of the common themes that characterize the caregiver and patient experience.
Reasons for High Burden of Care
PANS symptoms cause suffering and interfere with a child's ability to function, be happy, perform daily living skills, all of which they had been able to handle before symptom onset. We encourage clinicians, teachers, providers, etc., to understand the human aspects of PANS/PANDAS as symptoms are often so distressing, causing high levels of caregiver burden. As a result, caregivers have to dedicate more time and energy to help their family and child function. Due to symptoms, often, children cannot remain in the same school, need significant support, attend school at all, or miss at least one day of school per week. Securing and arranging appropriate schooling increases the caregiver burden. When a parent has to reduce their work hours to be available to provide increased support, the caregiver burden index increases. Even when the patient's symptoms improve or remit, the burden is not significantly decreased as there is continued fear that symptoms will come back and hypervigilance is required. The rarity and controversy or push-back from some providers and often friends and family can further isolate families; they feel abandoned. Unfortunately, state agencies or insurance does not provide respite services to PANS PANDAS families. 
Reasons for High Burden of Care 
Accessing appropriate care is difficult

The treatment path is uncharted even with published treatment recommendations

Insufficient awareness amongst professionals 

Lack of validation of parent reports of child's medical issues

The high number of appointments needed

It is challenging to coordinate care between the various team members who are typically not all part of the same practice. There are only a few PANS PANDAS clinics providing comprehensive care, so parents have to create their own provider team.

There is a significant financial burden

Parents often need to take a leave of absence from work or reduce hours

50% of patients miss a significant amount of school. Many are homeschooled or on home-hospital/homebound instruction.

Most treatments are expensive, and many providers do not accept insurance

There is a lack of consistent insurance coverage, and costs can still be high with coverage

All behaviors/symptoms are difficult to manage

Severe separation anxiety is a dominant symptom, so caregivers rarely can take a break

Sleep disruption is significant

Rage and aggression are challenging.

Severe patients may have life-threatening behaviors

Difficult to watch patients miss out on typical childhood

Lack of support by the community

Lack of understanding by the school on how to support

The extended family often neglects or blames parents for the child's behaviors citing bad parenting skills.

Social isolation and criticism from the pre-PANS PANDAS support system

PANS PANDAS affects the entire family unit. Siblings and parents need support, but it can be challenging to find time and resources to put it into place
High Caregiver Burden Index (CBI) for PANS PANDAS
"High levels of caregiver burden are reported in the Stanford PANS clinic. Interventions for PANS/PANDAS may be enhanced by including the CBI as part of routine clinical assessment and by providing targeted resources to parents where appropriate."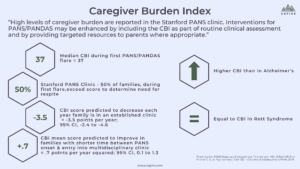 Median CBI during the first PANS/PANDAS episode was 37

Higher CBI than in Alzheimer's
Equal CBI as to that seen in Rett Syndrome

Need for respite is seen in 50% of families during the first flare in the Stanford PANS Clinic

The score to determine the need for respite was exceeded

Flares/Exacerbations lead to an increase in the mean CBI score

6.6 points (95% CI 5.1 to 8.9)

CBI score predicted to decrease each year family is in an established clinic

Predicted decreased score = -3.5 points per year; 95% CI, -2.4 to -4.6

CBI mean score predicted to improve over time in family's with a shorter time between PANS onset & entry into a multidisciplinary clinic

Predicted improvement .7 points per year squared; 95% CI, 0.1 to 1.3
Source: Farmer C, Thienemann M, Leibold C, Kamalani G, Sauls B, Frankovich J. Psychometric Evaluation of the Caregiver Burden Inventory in Children and Adolescents With PANS. J Pediatr Psychol. 2018 Aug 1;43(7):749-757. doi: 10.1093/jpepsy/jsy014. PMID: 29547961.
Common Themes in the Caregiver and Patient Experience
Fear
Parents Fear – Behaviors can be scary and dangerous
Parents Fear – Symptoms coming back (PTSD)
Parents Fear – How devastating symptoms are, how incapacitated their child is
Patients Fear – Symptoms coming back (PTSD)
Patients Fear – Losing the ability to function, think clearly, read and write
Patients Fear – Losing friends and not being able to attend school, extra-curricular activities, social events.
Patients Fear – Certain medical interventions
Frustration
By the lack of knowledge about PANS/PANDAS
Lack of receiving an accurate and timely diagnosis
Due to being blamed for the child's behavior
Lack of compassion
Lack of resources and insurance-based coverage in most states
By the limited pool of providers who are well versed in PANS/PANDAS
Not Being Heard
Dismisses caregiver and patient input; do not believe what they experience
The healthcare community is too often dismissive, patronizing
The healthcare community too often underdiagnoses PANS PANDAS
The emergency room is often ineffective in providing adequate support

Too often not provided appropriate treatment
Too often sent to psychiatric wards where patients were heavily sedated and provided treatments that were ineffective or harmful

Relieved when practitioners listen and are not quick to judge
Caregiver Experience in PANS PANDAS handout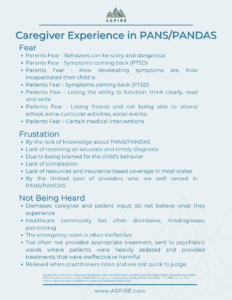 Source: Implications for Advanced Practice Nurses When Pediatric Autoimmune Neuropsychiatric Disorders Associated With Streptococcal Infections (PANDAS) Is Suspected: A Qualitative Study McClelland, Molly, PhD, RN et al. Jnl Ped Health Care, 2015 Sep-Oct;29(5):442-52 doi:10.1016/j.pedhc.2015.03.005.
---
Return to Section: