ASPIRE is delighted to announce that the following key volunteers are joining ASPIRE to lend their expertise, time and energy to achieving the goals outlined in our strategic plan.
Wendy Nawara, LCSW – Legislation
Alissa Johnson – Public Policy
Caoimhe Dardis (IL) – Research & Study Review
Christine Amabile, LCSW – School Outreach & Provider Outreach
Denise Nagy – Public Relations
Fern Zagor, LCSW, ACSW – Provider Outreach & Finance/Governance
Gabriella Bout Denning (GA)- Research & Study Review
Jaime Tan (NJ)- Family Support
Kathy Rubel (PA) – Content/Communications
Katie Zigmond (CT) – Family Support
Kim Cruz, MD – Provider Outreach
Kim Turgeon (MA) –  School Outreach
Lisa Killion (NY) – School Outreach
Lisa Swint – Public Policy
Lisa Williams (CT) – Development & Family Support
Liz Reinke – Family Support
Martha Shoultz – Finance/Governance
Mary Hernandez – Public Relations
Mike McCartney (IL) – Development/Communications
Norina Vigaent – Public Relations
Sherine Gilmour – Content
Tricia Ehrlich – Content/Communications
Following an eventful and successful first year, the ASPIRE Board of Directors is pleased to announce that it has elected Gabriella True its new President. Gabriella's many years of dedicated service and advocacy in the PANS/PANDAS community are an asset to the ASPIRE mission. She will boldly lead ASPIRE in the next steps of our mission to improve the lives of all affected by PANS and related encephalopathies. 
Moving forward, Jessica Gowen will serve as Vice-President and maintain her position as Secretary. Kelly Wooldridge, Lisa Hardy, Dr. Sue Swedo, Lucy Fry, Christine Kapetanakis and Greg Panagos will continue in their current positions.
We would like to express our gratitude to our founding board President, Wendy Nawara, for her guidance and heartfelt devotion to the success of the organization. We wish her well in her new endeavors. Wendy joined our team to assist in the conceptualization and the bringing of our collaborative vision to life. With her help, ASPIRE quickly has become a well-respected, world-renowned organization. 
ASPIRE has been privileged to have Wendy's leadership in the creation of positive change not only for our patients and families, but also for other advocates, physicians, and researchers. While we are sad to see her go, we know that she will use her talents to continue making a difference for the PANS community by continuing to work on select legislative efforts.
ASPIRE Founding Board Members
We aspire to discover.
Learn about other families whose lives have been affected by PANS/PANDAS — and be inspired to share your own.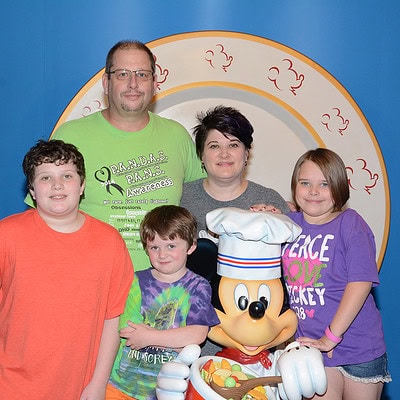 The Happiest Place on Earth
They say that when your child has PANS/PANDAS that you often remember the exact moment something changed. For our oldest son, Neely, that "moment of change" happened in front of Dumbo in Fantasyland, he was six (first grade). As I stood there with our two-year-old in the stroller and crying and pregnant with our third […]