PANS PANDAS in the School Setting Toolkit  Information at your fingertips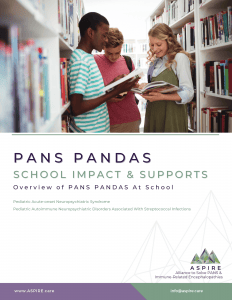 Click the button below to download the twenty-page toolkit that provides information on School Impacts and Supports for PANS PANDAS.
Register with ASPIRE to download this information packet.
PANS PANDAS School Impact Toolkit
---
Learn more about PANS PANDAS in the school setting. PANS PANDAS is a medical condition in which symptoms affect a student's ability to attend school and learn.
Learn more about the Scholl Nurse Role for PANS PANDAS and download the updated toolkit!
Register for a School In-Service on PANS PANDAS
---
Return to Section: