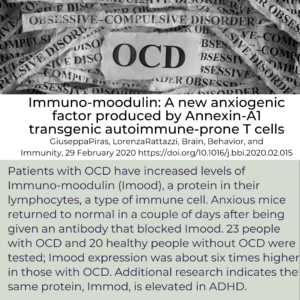 Patients with obsessive compulsive disorder (OCD) have increased levels of Immuno-moodulin (Imood), a protein in their lymphocytes, a type of immune cell.
Anxious mice returned to normal in a couple of days after being given an antibody that blocked Imood. Twenty-three people with OCD and twenty healthy people without OCD were tested; Imood expression was about six times higher in those with OCD. Additional research indicates the same protein, Immod, is elevated in ADHD.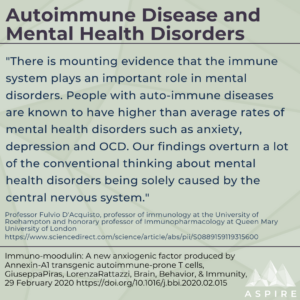 "There is mounting evidence that the immune system plays an important role in mental disorders. People with auto-immune diseases are known to have higher than average rates of mental health disorders such as anxiety, depression and OCD. Our findings overturn a lot of the conventional thinking about mental health disorders being solely caused by the central nervous system."
Professor ulvio D'Acquisto, professor of immunology at the University of Roehampton and honorary professor of Immunopharmacology at Queen Mary University of London.