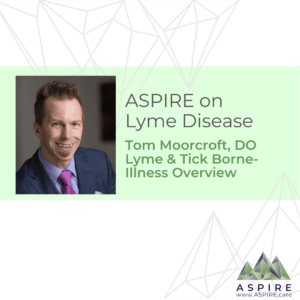 ASPIRE talks with Tom Moorcroft, DO about some of the most frequently asked questions on Lyme disease and tick-borne illness including Bartonella and Babesia. This article is divided into 4 separate sections.
"Education is critical to know what is out there. If we can identify cases of Lyme disease early, we can treat them right away. Then we decrease the likelihood of an infection leading to chronic infection and symptoms. We also can bring those numbers down. Awareness and education are really critical; we can actually prevent Lyme and other tick-borne diseases." Dr. Tom
---
Dr. Tom Moorcroft is a global leader in solving complex medical mysteries, one might call him a medical detective. His goal is to find out what's really keeping someone sick and help them get better. This involves combining the very best medical science available with his extensive experience in both the field, in the hospital, and in his office as well as his passion for supporting health and healing with simple, every day (and often natural) approaches so you are as resilient and healthy as possible.
He has have been treating patients with chronic bacterial and viral infections as well as mycotoxin illness for over a decade. Many of his patients are children with infection-induced autoimmune encephalitis. He is a member of the ILADS Evidence-based Lyme and Co-Infections Fundamentals program working group and they review the evidence and update this program annually.
For a full bio: Origins of Health
---