High School Community Service Project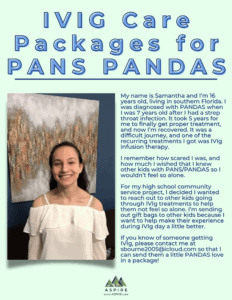 ASPIRE is so excited to introduce you to Samantha, a mighty PANS PANDAS fighter! She, like so many others, endured years of searching for the correct treatment. IVIg was a game-changer for her. Now she is a vibrant, healthy high schooler who wants to give back to the community. For her high school community service project, she is sending care packages to other kids undergoing IVIg treatments for PANS PANDAS!
ASPIRE is so proud of Samantha's PANS PANDAS advocacy work!
---
My name is Samantha and I'm 16 years old, living in southern Florida. I was diagnosed with PANDAS when I was 7 years old after I had a strep throat infection. It took 5 years for me to finally get proper treatment, and now I'm recovered. It was a difficult journey, and one of the recurring treatments I got was IVIg infusion therapy. I remember how scared I was, and how much I wished that I knew other kids with PANS/PANDAS so I wouldn't feel so alone. For my high school community service project, I decided I wanted to reach out to other kids going through IVIg treatments to help them not feel so alone. I'm sending out gift bags to other kids because I want to help make their experience during IVIg day a little better. If you know of someone getting IVIg, please contact me so that I can send them a little PANDAS love in a package!