Presenting a Panel on General Curriculum Access for Students with PANS PANDAS at CEC National Convention
Session Date: Friday, March 12, 2021, at 4:00 PM
Session Abstract: This presentation provides an overview of how PANS/PANDAS impacts classroom functioning across physical, socio-emotional, academic, and behavioral domains. Presenters will describe strategies and initiatives to support students with these PANS/PANDAS at the classroom, school, and district levels.  
Session Learning Objectives:
List and describe symptoms of PANDAS/PANS and related disorders
Identify physical, academic, and behavioral challenges commonly encountered by children with neurological disorders in accessing the general curriculum
Describe strategies to facilitate access to the curriculum at the classroom, school, district, and state levels.
Panelist Biographies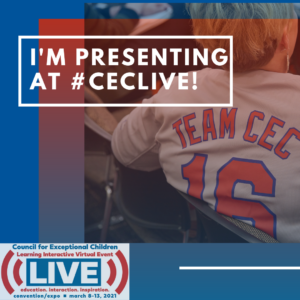 Gabriella True is the President of ASPIRE, Alliance to Solve PANS & Immune-Related Encephalopathies. She has been a leader in the PANS and autism communities since 2008. She continues to be an instrumental part of the Connecticut PANS PANDAS Partnership (CTPPP), a Connecticut based support and awareness group. As part of New England PANS/PANDAS Association (NEPANS), Gabriella held many roles, including President, 2015-2018. While at NEPANS, her focus was on creating tools to spread awareness and understanding throughout the community, support parents, educate schools and school nurses, and host two conferences. She sat on the PANDAS/PANS Advisory Council to the Department of Health for Connecticut. In addition to her work in the PANS community, Gabriella is also The Autism Community in Action (TACA) Connecticut Chapter Coordinator and has volunteered for them for ten years. Gabriella is a parent to two children with PANS, one who also has autism. Gabriella has a Bachelor of Art in Art History and has worked as a merchandise planner at The Metropolitan Museum of Art and Saks Fifth Avenue. She is excited to be a part of ASPIRE, focusing on collaborating with other PANS Community leaders. Read more about ASPIRE Board Members.
Dr. Patricia Rice Doran holds a B.A. in English and Education from the University of Notre Dame, a M.A. in English Language and Literature from the University of Michigan, and an Ed.D. in Bilingual Special Education from the George Washington University. She is currently an Associate Professof of Special Education at Towson University, where she has taught for seven years. Her current areas of specialization are cultural and language diversity, neurodevelopment, and teacher knowledge and skills. She has published and presented extensively on teacher knowledge and skills, particularly related to culturally and linguistically responsive classroom practices. She is currently Principal Investigator on a federal grant received from the Office of English Language Acquisition (OELA), English Learners Moving to Proficient Outcomes with Engagement and Rigor (EMPOWER).
More about The Council for Exceptional Children (CEC)
The Council for Exceptional Children (CEC) is the largest international professional organization dedicated to improving the educational success of children and youth with disabilities and/or gifts and talents. CEC advocates for appropriate governmental policies, sets professional standards, provides professional development, and helps professionals obtain conditions and resources necessary for effective professional practice. CEC is known as THE source for information, resources, and professional development for special educators.
More about the CEC National Convention
Register for CEC's Learning Interactive Virtual Event (L.I.V.E.) on March 8-13, featuring 700+ on-demand sessions, 3 keynote presentations, 30 live mainstage sessions, 400 poster videos, a series of pre-conference workshops, and more.
When it comes to supporting students with exceptionalities, we know it's a team effort. And with CEC's Learning Interactive Virtual Event (L.I.V.E.) on March 8-13, you have the chance to help everyone you work with understand what it means to effectively serve your students and win big at the same time.
From the comfort and convenience of your home with reduced registration rates and flexible scheduling, CEC L.I.V.E. will bring you:
Opening Keynote Presentation with Dr. Tyrone Howard, one of the country's premier experts on educational equity and access
Two more exciting keynote presentations
30 live interactive sessions
More than 700 pre-recorded sessions
400 poster videos, 150+ Teacher Slam presentations, and 40+ Research Data Blitz sessions
Series of pre-conference workshops
Technology Playground presenting Technology Demonstrations, Technology Implementation, and Make N' Take sessions
All the FUN you expect from CEC Central and the Expo Hall, including prizes, drawings, swag, games, and more!