ASPIRE has joined nearly 200 organizations by co-signing a letter to leadership in all 50 states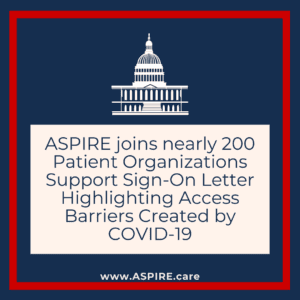 ASPIRE has joined nearly 200 organizations by co-signing a letter from Everylife Foundation to leadership in all 50 states aimed at highlighting the unique access barriers created by the coronavirus and temporary policy fixes that could serve to address them.
As the CDC is currently advising people at high risk of complications – a group including people with rare diseases – to take significant precautions during the coming weeks including obtaining supplies of prescription medications and staying at home for prolonged periods of time. Without temporary adjustments to policy, this is not feasible for most Americans living with rare diseases.
The sign-on letter was led by the EveryLife Foundation for Rare Diseases and drafted based on feedback and insights from leaders of the Foundation's Community Congress. The letter received support from nearly 200 patient organizations and was submitted to governors, insurance commissioners, Medicaid directors, and executive directors of boards of pharmacy to commend their ongoing efforts to protect the public's health and urge that they protect rare disease patients and high-risk populations during the COVID-19 crisis.
At ASPIRE, we have received many emails from patients and parents deeply concerned about accessing IVIG treatments during this period of social distancing. Many patients' prescriptions for IVIG treatments stipulate the IVIG must be given within an infusion center or doctor's office. This is becoming increasingly difficult or not possible right now. However, many insurance companies are saying the location of the IVIG delivery cannot be changed to in-home. Many families do have prescriptions that allow for in-home delivery with nurse management. So this letter requests to allow for home infusion, as well as addressing barriers to Prior Authorizations, Reauthorizations and Appeal Deadlines.
Issuing an emergency regulation requiring that insurers operating within the state allow a one-time 90-day refill of covered prescription medications and lift barriers to obtaining medication from out-of-network pharmacies;
Preparing for the possibility of supply chain disruptions by requiring insurers to cover off-formulary prescription drugs if there is not a formulary drug available to treat the insured;
Ensuring prior authorization and reauthorization requirements do not impede access to care and treatment;
Facilitating authorization of home infusion and injection services and ensuring reimbursement rates appropriately reimburse for such services;
Requesting authority to extend appeal and fair hearing deadlines to ensure important protections for patients who are seeking access to care and treatment; and
Seeking flexibilities afforded under section 1135(b)(1)(C) of the Social Security Act.