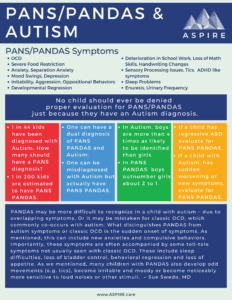 Children who have autism are at risk for the same medical conditions as children without autism. However, diagnosing PANS/PANDAS can be more challenging in children who have autism because of the overlap in clinical presentation.
A child who has autism who experiences an abrupt onset of OCD behaviors or eating restriction should be assessed for PANS PANDAS, particularly in the setting of an infection at the time of the change in behavior.
PANS/PANDAS patients are commonly misdiagnosed with Autism, Tourette's Syndrome, OCD, bipolar disorder, ADHD, Oppositional Defiance, or an eating disorder. However, PANS/PANDAS patients can have co-occurring conditions of Autism, ADHD, autoimmune illnesses, immunodeficiencies, and more.
---
Download the single-page Autism & PANS PANDAS handout (pdf).
Return to Autism PANS Guidelines  and download the toolkit.
---
1 in 44 children are estimated to have been diagnosed with Autism.
1 in 200 children are estimated to have PANS/PANDAS.
One can have a dual diagnosis of PANS/PANDAS and Autism.
One can be misdiagnosed with Autism but actually have PANS/PANDAS.
In ASD, boys were more than 4 times as likely to be identified than girls.
In PANS/PANDAS, boys outnumber girls approximately 2 to 1.
No child should ever be denied proper evaluation for PANS/PANDAS just because they have Autism or another diagnosis.
If a child has sudden regressive Autism, they should be evaluated for PANS/PANDAS.
If a child has sudden worsening of symptoms associated with Autism, they should be evaluated for PANS/PANDAS.
If a child with Autism has new behaviors or symptoms that correspond to the PANS/PANDAS diagnostic criteria, they should be evaluated for PANS/PANDAS.
A child with Autism can have OCD without having PANS/PANDAS.
"PANS and PANDAS are sometimes misdiagnosed as OCD, Tourette's syndrome, autism spectrum disorder (ASD), ADHD, anorexia, and other psychiatric disorders. The presence of obsessive rituals and interests, rigidity around routines, and impaired eye contact may be confused with ASD in young children. Pediatricians should consider the possibility of PANS and PANDAS for any child who presents with sudden changes in behavior or mood." Casoli Reardon, MD, MCPAP Medical Director and Pediatric Liaison, MGH for Children at North Shore Medical Center.
"PANDAS may be more difficult to recognize in a child with autism – due to overlapping symptoms. Or it may be mistaken for classic OCD, which commonly co-occurs with autism. What distinguishes PANDAS from autism symptoms or classic OCD is the sudden onset of symptoms. As mentioned, this can include new anxieties and compulsive behaviors. Importantly, these symptoms are often accompanied by some tell-tale symptoms not usually seen with classic OCD. These include sleep difficulties, loss of bladder control, behavioral regression and loss of appetite. As we mentioned, many children with PANDAS also develop odd movements (e.g. tics), become irritable and moody or become noticeably more sensitive to loud noises or other stimuli." – Sue Swedo, MD.
On Prognosis:  "If the child's autism was really a result of PANS or PANDAS, and again that is diagnosed by history, not by a blood test, then there is a very good chance of recovery. But if it is one of the overlapping circles and the child is unlucky enough to have both, then we can get the PANS and PANDAS better, but we may not be able to impact all of the autistic symptoms." -Nancy O'Hara, MD. (ARI-2017)
---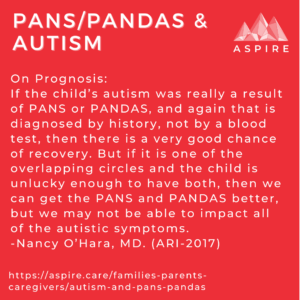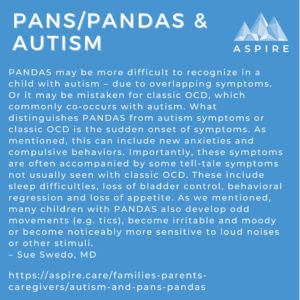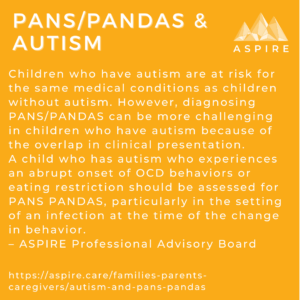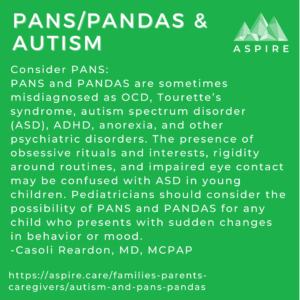 ---
Return to Section: