It is never too early to become a PANS PANDAS advocate!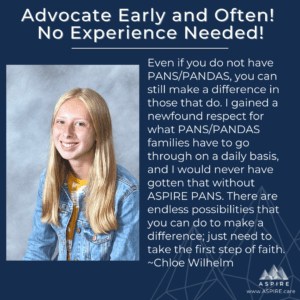 Public awareness of PANS PANDAS happens one person at a time, and we need your help! Increasing awareness improves outcomes of those suffering from these devastating disorders that should be treatable. When more people are aware of the signs and symptoms, doctors can diagnose and treat them faster. We aspire to reduce the time between the onset of symptoms and treatment. To get started, you don't really have to know much about PANS PANDAS; you just have to have compassion and the spirit to affect change and spread awareness! 
We introduce you to one young lady, Chloe Wilhelm, in high school, who brought the topic of PANS PANDAS to one of her college classes. She could have picked any public issue, but because she knew one wonderful girl battling this disease while her family pushes for insurance coverage, she chose PANS PANDAS as her subject matter. It was wonderful to talk with Chloe about her project and hear her excitement in spreading awareness. If there is an ear, there is an audience to learn. Join us and seize those opportunities!  – Gabriella True
---
My ASPIRE PANS Experience
Hi!
My name is Chloe Wilhelm, and recently, I had the privilege of working with ASPIRE PANS. The organization is truly a miracle worker; I can not say enough positive things about my experience! I was first introduced to ASPIRE PANS due to a college communications project. As one of the final assignments for the semester, I needed to write and present a community issue speech. Instantly, I knew I wanted to use my speech to broadcast about PANS/PANDAS. While I may not have PANS/PANDAS, I know someone who was diagnosed in 2018. Few people know about the demoralizing disease, so I hoped to use my voice to help bring public awareness. After all, any attention brought to PANS/PANDAS can help encourage more treatment options or save a life.
I knew I was set on a PAN/PANDAS themed speech, but how was my obstacle. As I researched, I saw Ohio House Bill 189 which could require insurance companies to cover PANS/PANDAS treatments. Originally, I reached out to my local house representative, however, I could not get an interview within the time frame for my project. Suddenly, I was stranded two days before the deadline without a direction for my speech. Not to mention, I was over five hours away from home playing in a soccer tournament. I felt that I hit a brick wall and was starting to lose hope in a PANS/PANDAS themed speech. That night, I texted the mother of our family friend who has PANDAS and desperately asked if she knew any other organizations. She mentioned ASPIRE PANS, and I immediately started shifting my frame of mind. At 10:18 pm, I Instagram messaged the ASPIRE PANS page. To be fully honest, I was not expecting an answer or an interview. Though, on a stroke of luck, Gabriella True responded and graciously allowed me to interview her the next day. After my soccer game, Gabriella and I met in a Zoom interview discussing the back story and future aspirations for the organization. With the information from our interview, I was able to finish my speech and even got an A!
Gabriella and the entire ASPIRE PANS organization were an answer to my prayers! ASPIRE PANS is making a difference in so many lives; I highly recommend helping them in any way possible (donations, volunteering, education, etc.). Even if you do not have PANS/PANDAS, you can still make a difference in those that do. I gained a newfound respect for what PANS/PANDAS families have to go through on a daily basis, and I would never have gotten that without ASPIRE PANS. There are endless possibilities that you can do to make a difference; just need to take the first step of faith.