Nurses' Role in PANS/PANDAS
What role do nurses play in helping families with PANS/PANDAS?
Nurses are an integral part of the team. Nurses are often the first point of contact during an office visit. It is crucial for nurses not only to recognize PANS/PANDAS symptoms but also to understand how assessments are done and the basics of the treatment guidelines.
"PANS is a syndrome that can be associated with severe manifestations. It is important for primary care advanced practice registered nurses, to recognize the symptoms described and to screen for safety, initiate treatment for infection, and ensure adequate pharmacologic and nonpharmacologic management of the disorder." – Elizabeth Heavey, PhD, RN, CNM, Kathleen Peterson, PhD, RN, PCPNP-BC, Treating pediatric acute-onset neuropsychiatric syndrome.
Learn more about School Nurses for PANS/PANDAS
Nurses' Role in PANS/PANDAS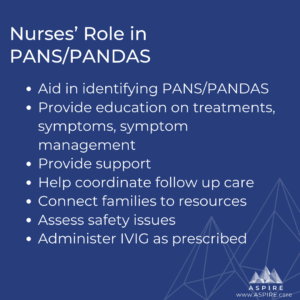 Aid in identifying PANS/PANDAS
Provide education on treatments, symptoms, symptom management
Provide support
Help coordinate follow up care
Connect families to resources such as ASPIRE
Assess safety issues
Administer

IVIG as prescribed
Nurses, during comprehensive assessments, can help make connections between the onset of symptoms and history and signs of infection. Nurses can recommend appropriate testing based on information collected during the assessment. For example, a nurse may record a history of sudden onset of neuropsychiatric symptoms soon after a sore throat or upper respiratory infection and therefore recommend testing for GABHS or mycoplasma pneumoniae. 
"Nurses often develop strong relationships with patients. Nurses are knowledgeable about the healthcare system, spend a great deal of time with patients and their families, provide care and support beyond the basics, and are perceived as being honest and trustworthy. A family dealing with the challenges of a PANDAS diagnosis will benefit from your knowledge, care, and honesty." – Joyce O'Reilly, MSN, MPA, RN, What you need to know about the strep throat complication of PANDAS
As most patients experience a sudden onset of symptoms, families are suddenly in a world they have little to no experience with. They are not familiar with the symptoms, how to navigate the healthcare system, or what other providers they could possibly access. Nurses can help provide much needed information to families about PANS/PANDAS and its symptoms, including OCD, anxiety, and tics, regression, etc. They can also explain to caregivers the symptom course of PANS/PANDAS, how it relapses and remits, often with a sawtooth recovery. Nurses can explain how to monitor the patient's symptoms and infections (or other triggers) during flares. Nurses can educate families on how to administer treatments and explain why adherence to treatment and appointments is so important.
"Collaboration with other healthcare professionals is a key aspect to making the correct diagnosis and treating the whole family unit. Patient education includes ensuring families know how to properly administer treatment, monitor for, and manage the symptoms of PANS, as well as coordinate necessary follow-up care." – Elizabeth Heavey, PhD, RN, CNM, Kathleen Peterson, PhD, RN, PCPNP-BC, Treating pediatric acute-onset neuropsychiatric syndrome.
A nurse who works with many PANS/PANDAS patients will be able to help connect patients and caregivers to other resources and providers. 
Nurses should also screen for safety issues, especially in severe and chronic cases. Nurses can also help coordinate follow up care. 
---
Understanding the Caregiver Experience
APRNs and PNPs must understand the human aspects of PANS/PANDAS as symptoms are often so distressing. It is essential to understand the Experience of patients and families living with PANS/PANDAS. Please see Common Themes from the Caregiver Experience.
---
Pediatric Nurse Practitioner Programs
Pediatric Nurse Practitioner (PNP) Programs should include information on PANS/PANDAS. Curriculums should incorporate, how to recognize symptoms, how to diagnose, how to treat appropriately in their practices.  
"PNP programs need to include the new and growing disorder of PANDAS into their curriculums so new PNPs will recognize it, diagnose it, and appropriately treat the condition in their practices. Nurse educators need to teach all APRN and nursing students about the complex of autoimmune neuropsychiatric disorders to increase the likelihood of proper treatment, early and accurate diagnosis, and appropriate referrals." Molly McClelland, PhD, RN, Implications for APRNs When PANDAS Is Suspected
Sources:
What you need to know about the strep throat complication of PANDAS, Joyce O'Reilly, MSN, MPA, RN, My American Nurse, 2018,
Treating pediatric acute-onset neuropsychiatric syndrome, Heavey, Elizabeth PhD, RN, CNM; Peterson, Kathleen PhD, RN, PCPNP-BC, The Nurse Practitioner: March 2019 – Volume 44 – Issue 3 – p 44-49 doi: 10.1097/01.NPR.0000553400.88847.5d
Implications for Advanced Practice Nurses When Pediatric Autoimmune Neuropsychiatric Disorders Associated With Streptococcal Infections (PANDAS) Is Suspected: A Qualitative Study, McClelland, Molly, PhD, RN et al. Jnl Ped Health Care, V29, I5, 442 – 452 doi.org/10.1016/j.pedhc.2015.03.005
ASPIRE – School Nurses & PANS/PANDAS Link On website
PANDAS in the School Setting, Kathy O'Rourke, MA, School Nurse News, 2003
Is It PANS, CANS, or PANDAS?: Neuropsychiatric Pediatric Disorders That Are Not Black and White—Implications for the School Nurse, Kathy Bagian MSN, RN, CSN, Sheila Q. Hartung, PhD, RN, NASN School Nurse, 30(2), 96–104. doi.org/10.1177/1942602X14554607
---
Learn more about the School Nurse Role for PANS PANDAS