By Carrie Firestone
In this companion to Dress Coded, an eighth-grader starts a podcast on climate activism and rallies her friends to create lasting change in their local community and beyond. The First Rule of Climate Club, a mid-grade novel, focuses on an eighth grader's efforts to help diagnose her friend's "mystery illness," which eventually is identified as PANS from Lyme disease.
Carrie Firestone's Website
An Interview with Carrie Firestone, Author of THE FIRST RULE OF CLIMATE CLUB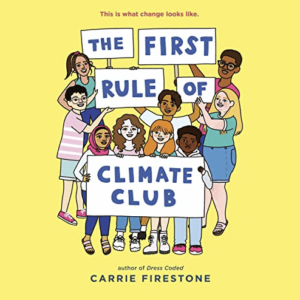 Gabriella True sat down with Carrie Firestone to discuss all things Climate Club and PANS PANDAS.  We absolutely love how the book weaves together the rise of tick-borne diseases with climate change and, ultimately, a student's struggle with PANS and Lyme disease. Please share this book far and wide, not just within our PANS community. It is a wonderful way to educate middle-grade students and their families about these important topics.
Can you tell us a little about the book?
Yes! THE FIRST RULE OF CLIMATE CLUB is a companion book to my middle grade novel DRESS CODED. It's about an eighth grader named Mary Kate, who joins a pilot science class with a climate change focus. She joins eight other environmentally-minded students and a very enthusiastic teacher, but she's anxious that her best friend Lucy is unable to go to school due to a mysterious illness.
The book is about the class working together to find ways their community can address climate change, while reckoning with the foundation of racism that led to the environmental justice movement. As Mary Kate finds her way without Lucy, she gets help from a classmate who leads them to a doctor, who diagnoses Lucy with PANS and eventually tick-borne illnesses.
What made you decide to write about PANS/tick-borne illnesses?
Unfortunately, I have had numerous personal experiences with PANDAS/PANS and tick-borne illnesses in my family and circle of friends. My own experience brought me to twelve different doctors before my friend introduced me to an immunologist who cured me. I wanted to share the feeling of relief that comes from someone providing a lifeline to an answer.
More broadly, I wanted to illustrate the fact that climate change is going to bring all kinds of new and worsening pathogenic diseases, especially since ticks are already experiencing longer reproductive cycles in Connecticut, which is leading to many more infected ticks and sick people.
What was the most challenging thing about writing this book?
I wanted the book to be hopeful, but it had to be realistic. Anyone in the PANDAS/PANS community knows that this not something you can cure in a week. It's complicated and often requires a multi-pronged, long-term approach. But the book takes place over the course of two months. It was important to get Lucy on the path to recovery without wrapping the book up with neat bow.
What else do you hope readers will take away from CLIMATE CLUB?
I want young readers (and their families) to know there are many things we can do to address climate change at the local level, and that the first step is building community. I also really want readers who are dealing with PANS and tick-borne illnesses to see themselves in Lucy and to know they're not crazy, they're not wrong about what they're feeling, and they're not alone. And I hope people who read this book and have a friend or family member who is struggling with chronic illness will better understand how to be there for someone who can't give a hundred percent, but who needs support, encouragement, and love.