New "Buy American" requirements on medicines would limit patient access to affordable medicines and increase the risk of drug shortages during the COVID-19 pandemic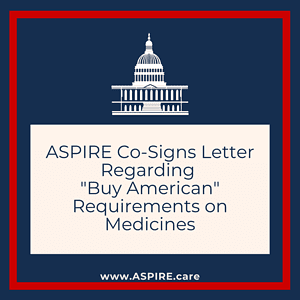 ASPIRE has joined 60 plus organizations by co-signing a letter from Association of Accessible Medications (AAM).
The coronavirus (COVID-19) pandemic is disrupting everyday life around the world and imposing unprecedented stress on our health care system. President Trump's trade advisor has been advocating that the president sign an Executive Order that would mandate or encourage that the US government only purchase drugs whose active pharmaceutical ingredients are made in the US with a similar rule for medical devices.  Such a move right now, which could come as early as this week, would destabilize the pharmaceutical supply chain at the worst possible moment for patients and the providers caring for them.
Alliance for Accessible Medications has drafted a letter to President Trump requesting that he not take any action that would destabilize the health care supply chain at this sensitive time.  Nearly 80 members of the House signed a bipartisan letter raising concerns about how the "Buy American" order could impact personal protective equipment.
Generic medicines account for 90% of all prescriptions filled. Developers of generic and biosimilar medicines support diversification of the pharmaceutical supply chain and incentives to increase manufacturing in the United States but we must not hinder our response to the COVID-19 emergency.
60 percent of all generic finished dosage form (FDF) facilities and 87 percent of all generic active pharmaceutical ingredients (API) facilities are currently located outside of the United States. Shifting the manufacturing and production of generic medicines and API to the United States as part of the diversification of the supply chain is a desirable long-term goal, but it is simply not feasible in the short-term and would negatively impact patient access to low-cost generics.
New requirements to apply "Buy America" provisions to the manufacturing and production of generic medicines and API would thus limit patient access to essential medicines, increase the risk of shortages and increase the cost of prescription drugs.
Limits Patient Access to Medicine
Increases the Risk of Shortages
Increases the Cost of Medicine
"Buy American" One Pager from AAM
CURRENT SIGNATORIES AS OF 3/25:
60 Plus Association
Advocacy & Awareness for Immune Disorders Association
Allergy & Asthma Network
Alliance to Solve PANS & Immune-Related Encephalopathies
American Autoimmune Related Diseases Association
American Behcet's Disease Association
Association for Accessible Medicines
Autoimmune Encephalitis Alliance, Inc.
Beyond Celiac
Black Women's Health Imperative
Center for Freedom and Prosperity
Consumer Healthcare Products Association
Council for Citizens Against Government Waste
Dysautonomia International
FreedomWorks
GO2 Foundation for Lung Cancer
Healthcare Distribution Alliance
Innovative Defense Foundation
International Foundation for Autoimmune & Autoinflammatory Arthritis
International Pemphigus Pemphigoid Foundation
Lupus and Allied Diseases Association, Inc.
Lupus Foundation of America
Mental Health America
Myasthenia Gravis Foundation of America
National Alopecia Areata Foundation
National Consumers League
National Eczema Association
National Health Council
National Taxpayers Union
Partnership to Fight Chronic Disease
PhRMA
Sjögren's Foundation
Spina Bifida Association
Taxpayers Protection Alliance
USP
Vitiligo Support International