---
Education Seminar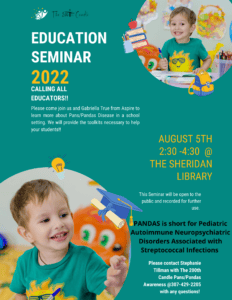 All educators are invited to attend a seminar on PANS PANDAS. An overview of symptoms, diagnosis, treatment, and how it affects learning will be provided.  Seminar hosted by The 200th Candle. The lecture will be given by Gabriella True, president of ASPIRE.
If you have questions regarding this seminar, please contact Stephanie Tillman, The 200th Candle, at 307-429-2205.
Date/Time: August 5th at 2:30:5:30 PM
Location: The Sheridan Library, 335 W Alger St, Sheridan, WY 82801
---
More about The 200th Candle
Coming soon
---
PANS PANDAS Personal Stories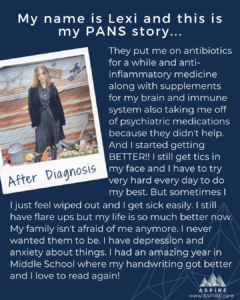 Our stories are powerful. They inform, educate, and reassure. Learning what PANS is really like from families and patients provides an invaluable window into the reality of living with a PANS diagnosis. Every story is unique in its own way, but all have a universal connection that ties our experiences together. We are not alone in this diagnosis. We can support and learn from each other. Please read through the stories. We highly encourage you to submit your Personal Story today!
Read Lexi's story. Lexi is a young girl from Wyoming recovering from PANS PANDAS. She has bravely shared her story. Lexi's story exemplifies the absolute devastation patients and families go through as a result of being misdiagnosed for too long.
Read Lexi's Story.