Speaker: Daniel A. Kinderlehrer, MD
Webinar: Microbes and Mental Illness: Tick-Borne Infections and PANS
Watch on Demand: Register Now

---
About this Webinar
The most prominent symptoms of Lyme disease and other tick-borne infections are musculoskeletal and neurological, but neuropsychiatric symptoms can overshadow the clinical picture. Patients with anxiety, depression, OCD, eating disorders and even psychosis are often diagnosed with a primary psychiatric condition when an underlying infection is causing the mental health issues. Dr. Kinderlehrer will detail the spectrum of neuropsychiatric illness associated with these infections, explain the underlying pathophysiology, and make recommendations regarding appropriate diagnostic and treatment interventions.
About Daniel A. Kinderlehrer, MD

Daniel A. Kinderlehrer, M.D. is a nationally recognized physician with expertise in the fields of nutrition, allergy, environmental medicine, Lyme disease and the healing of mind-body-spirit as a unified whole. Dr. Kinderlehrer co-founded The New England Center for Holistic Medicine in Newbury MA, and has taught extensively, including practitioner training courses at The Omega Institute, The National Institute of Behavioral Medicine, the American Academy of Environmental Medicine, and the International Lyme and Associated Diseases Society. He created and organized the Lyme Fundamentals course, which is presented annually at the International Lyme and Associated Diseases Society conferences. He is the author of several articles in medical journals, the Lyme Times and Psychology Today. His integrated medical practice in Denver, CO, focuses on the diagnosis and treatment of tick-borne illness. Dr. Kinderlehrer is the author of Recovery From Lyme Disease: The Integrative Medicine Guide to the Diagnosis and Treatment of Tick-Borne Illness, which was released in March 2021.
Contact Information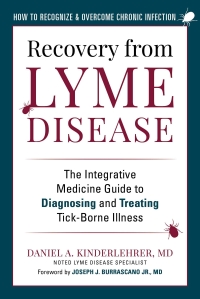 Daniel A. Kinderlehrer M.D.