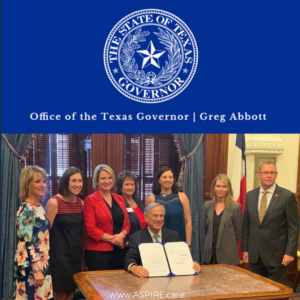 Governor Abbott Appoints Fourteen To Pediatric Acute-Onset Neuropsychiatric Syndrome Advisory Council
Governor Greg Abbott has appointed Lisa Hardy, ASPIRE Board member along with Kara Cashteen, Anne Esquivel, Ph.D., Dan Freeland, D.O., Lisa Formby, Sarah Garrett, Suzanne Gazda, M.D., Anthony Infante, M.D., Ph.D., Qazi Javed, M.D., Paula Kruppstadt, M.D., Sharon Lemons, Darcy McMaughan, Ph.D., Amy Offutt, M.D., and Carol Trautman, Ph.D. to the Pediatric Acute-Onset Neuropsychiatric Syndrome Advisory Council for terms set to expire on August 31, 2021. The council advises the commission and the legislature on research, diagnosis, treatment, and education related to Pediatric Acute-onset Neuropsychiatric Syndrome (PANS).
The process of House Bill 2783, relative to the establishment of a Pediatric Acute-onset Neuropsychiatric Syndrome (PANS) Advisory Council, becoming a law began four years ago. It may be longer than that if you count the many years before then, when parents, grappling with suddenly psychiatrically sick children, began sharing information and supporting one another in regional support groups. The suddenness of the illness associated with sore throat or seemingly mild infection and the unusual, extreme and disruptive symptoms had parents desperate for help finding many medical professionals without expertise or knowledge. The illness, although studied for over 30 years, has proved to be complex and challenging for providers and had a devastating impact on families and their children.
In preliminary meetings, scientific research and parent experiences helped convince legislators of the overwhelming need of these children for access to effective treatment and better dissemination of new PANS research among medical professionals. A small group of people, led by Kara Chasteen, Burnet County Republican Party Chairwoman, began to make progress and doors began to open. State Representative Colonel Terry Wilson of District 20, in collaboration with his Chief of Staff, Jeff Frazier, authored HB 2783 and State Senator Dr. Dawn Buckingham served as Senate sponsor and filed a companion bill.
Regional support groups were the foundation of the grassroots effort and were pivotal in moving the bill through both houses of the legislature. Many parents, grandparents, and friends wrote letters and made calls advocating for improvements for children with PANS. On June 10, 2019, with bipartisan support HB2783 relative to the establishment of Pediatric Acute-onset Neuropsychiatric Syndrome was signed into law by Governor Abbott.
Our deep gratitude to Governor Greg Abbott, Representative Terry Wilson, Senator Dawn Buckingham, Co-sponsors, Representative Andrew Murr, Representative John Kuempel, Representative Scott Sanford, and Representative Ed Thompson, Jeff Frazier and Kara Chasteen. Thank you also to those who provided testimony or attended meetings: Tracy Ganske, Jennifer House, Liz Lozier, Amy Offutt, Wendy Nawara, Josie Stevens, and Lisa Swint. We are grateful for the many parents and individuals in the community who worked together to help pass this law establishing a Texas PANS Advisory Council. Our hope is that this is the beginning of a better future for children with PANS in Texas.
Office of the Texas – Governor Abbott – Announcement of PANS Council