Our students are PANS PANDAS strong!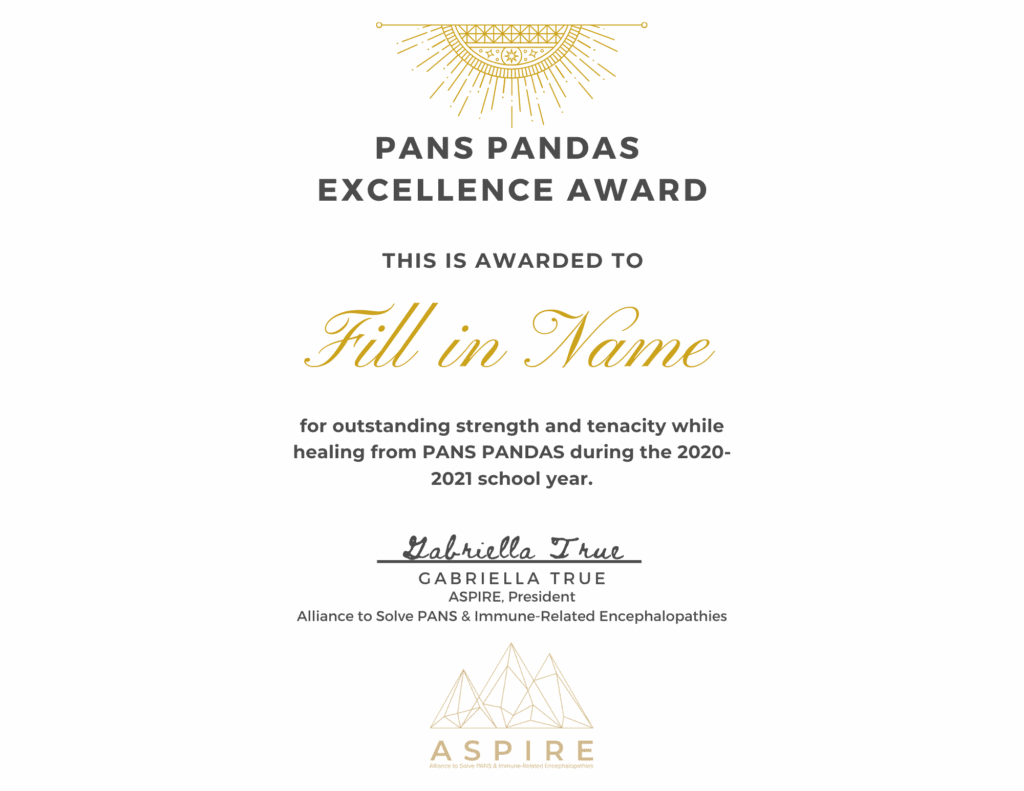 As we begin to wrap up the school year, we see many kids receiving praise for scholastic achievement. Let us take the time to honor all of the PANS PANDAS students that toughed it out through their numerous hard times due to PANS PANDAS. People say it was a rough year because of COVID, and for many, that is true, but our community collectively says, we know tough; we do tough every year. 
At ASPIRE, we are SO PROUD of all the kids that pushed forward in their own unique way. So, we thought that every kid should have their own PANS PANDAS Excellence Award for outstanding strength and tenacity while healing from PANS PANDAS during the 2020-2021 school year! This is far from a participation award; our mighty warriors endure so much more than most people their age (or ever) and, in the process, learn so much about life and strength. 
Please download the attached Excellence Award certificate to fill in your student's name! If you are very patient with us and depending on demand, we can personalize it for you and send it as a pdf; we can't guarantee a specific date, but we will do our best. Create a special moment to celebrate their inspiring fortitude while healing from PANS PANDAS.  
If you would like it personalized, please message Gabriella with your child's first name. Just remember, we cannot guarantee a specific date, so feel free to download the blank version and fill it in yourself!