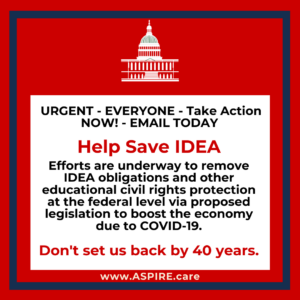 EVERYONE – Take Action NOW!
EMAIL TODAY –- Send your Senators and your Representative an EMAIL TODAY! (phone calls may not be answered due to office closures).
Find your Senators here
Find your Representative here
COPAA Sample Letter here
It is essential that you contact your state representatives in Congress IMMEDIATELY; significant efforts are underway to remove IDEA obligations at the federal level, as well as other educational civil rights protections. The legislation will be put into the proposed legislation to boost the economy due to COVID-19 so it has a chance of passing. This would turn back special education progress by over 40 years, and would remove federal entitlement to services. Please read the latest from COPAA which includes links to our Congressional leaders.