ASPIRE to Move Mountains Together Bracelets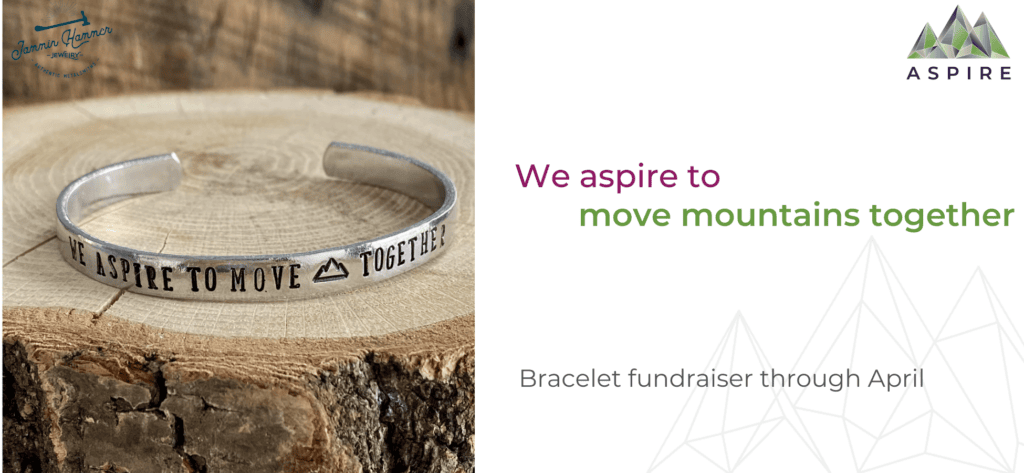 Why Move Mountains Together?
PANS PANDAS is a rough road and a significant obstacle to overcome, and we need our community's help to get over that big mountain. When you feel alone at home while you deal with PANS PANDAS, know that you are not; many of us are on the same journey and supporting you as we go through it. When we are working on education and awareness campaigns, we need the community to be involved. When we tell our stories together, there is a collective impact! So let's move mountains together to improve the lives of those affected by PANS PANDAS!
This bracelet fundraiser will run to the end of April so please consider buying a bracelet!
ASPIRE's mission is to improve the quality of life for those affected by PANS, PANDAS, and immune-related encephalopathies. 25% of sales of this bracelet will go to Aspire: The Alliance to Solve PANS & Immune-Related Encephalopathies.
Handmade

Measures ¼" wide

Reads 'We Aspire to Move Mountains Together'

Made of high-quality aluminum

Fits a wide range of wrists

Adjustable—gently squeeze to find your perfect fit
Please note that each piece is handmade so you're likely to see slight variations in the depth and spacing of the letters—your bracelet will be a true one-of-a-kind
---