Susan Swedo, MD on new research on Autoantibody Biomarkers for Basal Ganglia Encephalitis for PANDAS and SC
Autoantibody Biomarkers for Basal Ganglia Encephalitis in Sydenham Chorea and Pediatric Autoimmune Neuropsychiatric Disorder Associated With Streptococcal Infections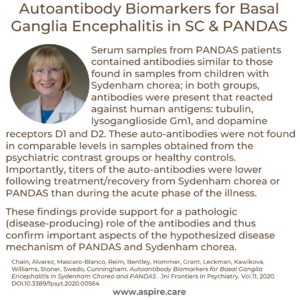 The research article states that "movement, behavioral, and neuropsychiatric disorders in children have been linked to infections and a group of anti-neuronal autoantibodies, implying dopamine receptor-mediated encephalitis within the basal ganglia."
The goal of the study "was to determine if anti-neuronal biomarkers, when used as a group, confirmed the acute disease in Sydenham chorea (SC) and pediatric autoimmune neuropsychiatric disorder associated with streptococcal infections (PANDAS)." 
---
Dr. Swedo briefly explains the importance of this research and its results. 
The Frontiers article is an important replication and extension of previous work by Dr. Madeleine Cunningham and her colleagues. The investigation reports results of assays done on samples obtained from 60 PANDAS patients, 8 children with Sydenham chorea, and 2 "control" groups — children with other psychiatric/neurologic disorders (25 with OCD, 18 with attention deficit hyperactivity disorder (ADHD) and 18 with Tourette disorder), and 28 healthy controls. 
Using direct enzyme-linked immunosorbent assay (ELISA) techniques, the investigators found that serum samples from PANDAS patients contained antibodies similar to those found in samples from children with Sydenham chorea; in both groups, antibodies were present that reacted against human antigens: tubulin, lysoganglioside Gm1, and dopamine receptors D1 and D2. These auto-antibodies were not found in comparable levels in samples obtained from the psychiatric contrast groups or healthy controls. 
Importantly, titers of the auto-antibodies were lower following treatment/recovery from Sydenham chorea or PANDAS than during the acute phase of the illness. Changes were also seen in the activity of the calcium/calmodulin-dependent protein kinase II (CaMKII) pathway during the course of illness. 
Taken together, these findings provide support for a pathologic (disease-producing) role of the antibodies and thus confirm important aspects of the hypothesized disease mechanism of PANDAS and Sydenham chorea.  
Note: Although these findings provide some scientific support for the utility of the "Cunningham panel" (Moleculera Labs), the results of this investigation came from Dr. Cunningham's research lab at the University of Oklahoma (a separate entity). Thus, the results are not a direct endorsement of the Cunningham panel's clinical utility or other commercially available tests.
Study: Chain Jennifer L., Alvarez Kathy, Mascaro-Blanco Adita, Reim Sean, Bentley Rebecca, Hommer Rebecca, Grant Paul, Leckman James F., Kawikova Ivana, Williams Kyle, Stoner Julie A., Swedo Susan E., Cunningham Madeleine W. Autoantibody Biomarkers for Basal Ganglia Encephalitis in Sydenham Chorea and Pediatric Autoimmune Neuropsychiatric Disorder Associated With Streptococcal Infections. Jnl Frontiers in Psychiatry. Vol.11, 2020. DOI.10.3389/fpsyt.2020.00564