Your support will help close the gap
between symptom onset and treatment.
You are an integral part of
the progress our community needs.
5 Key Audiences



ASPIRE Programs



ASPIRE in Action – We empower and connect our community with tools and resources for advocacy, education, support, and awareness.
Your support funds ASPIRE's programs that reach five core audiences to increase awareness and understanding of PANS PANDAS on a national level while providing critical support to all community members. Would you please help ensure ASPIRE can educate the medical, legislative, school, and family communities about PANS/PANDAS?
National General Public
Families & Patients
Schools & Educators
Legislators
Providers
For full screen, click the symbol on the lower right hand of the video.
Be a Hero.
Empower. Support. Donate.
With your help, ASPIRE will continue to educate the medical, legislative, school, and family communities about PANS/PANDAS while advocating for affordable, proven treatments.
PANS is a devastating disorder, but recovery is possible. Early diagnosis and treatment lead to improved outcomes. Unfortunately, many PANS/PANDAS patients do not receive a timely diagnosis or appropriate treatment due to a lack of education about this medical condition. When access to care is delayed, symptoms can worsen and become chronic. You can improve the lives of those affected by PANS by helping to close the gap between the onset of symptoms and the start of treatment.
Your support impacts our community in a lasting way. You are an integral part of the progress our community needs.
2021 – A Year in Review
We want to thank you for working with ASPIRE to improve the lives of those affected by PANS/PANDAS. We have had a busy and constructive year through collaboration, hard work, and a lot of heart.
We Aspire

to Educate



Printed Materials & Website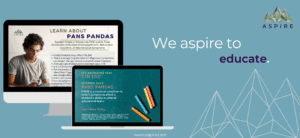 Website
ASPIRE dedicates a significant amount of time to providing our community with up-to-date, easy-to-understand information. This year, we wrote 10 new website sections, including Clinical Urgency, Caregiver Burden, Behavioral Health, Disordered Eating, Information for Clinicians, Complementary Therapies, Tips on PANS PANDAS, and more. So, take a look and keep learning and sharing!
Handout, Toolkits & Posters
ASPIRE also knows that you often want to share some handouts or display posters when educating others. So, we have created 6 new flyers, 11 new posters, and 6 new or revised toolkits. All are free to download or share via email or social media. See all ASPIRE Handouts & Toolkits.
At least 3,000 copies of a few of our handouts were downloaded this year. (We don't track all of our materials.) In addition, on PANS PANDAS Awareness Day, our community shared over 800 ASPIRE materials and posts, reaching about 90,000 people on Facebook, Instagram, and Twitter.
"It was a pleasure to listen to your presentation. I learned a lot. I have been thinking about so many of my former students who fit the criteria for PANS/PANDAS. Now that I am armed with more information, I feel like I am in a better place for suggesting further medical follow-up. Knowing how much a proper diagnosis can help the child, their family, and their educators is a great reason to continue to get the word out there!" – School RN and IEP Support Services
We Aspire

to Support
Family and Patient Support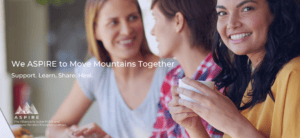 Patients and parents know PANS PANDAS changes your life in a blink of an eye, making it hardly recognizable. It is scary, frustrating, confusing, isolating, exhausting, stressful, depressing, and so much more. ASPIRE strives to support families and patients. We connect them to resources – provider lists, education materials, support groups, and more.
One-on-One Support – ASPIRE has answered over 500 emails and calls this year from parents and patients. Reach out to us today.
Facebook Group – In April, we launched a Facebook group for parents and adult patients. Since then, we have grown to 900 members. It provides additional one-on-one, hive mind support for adult patients with PANS PANDAS and parents/caregivers of PANS/PANDAS patients. PANS PANDAS is a rough road, and it can be incredibly isolating, but we believe that you are never alone on this journey once you have found a home. We ASPIRE to move mountains together. Join Today!
Personal Stories – 19 Members of our community wrote their PANS PANDAS stories for ASPIRE this year. It is vital for those who are living with PANS/PANDAS to share their experiences with others. It lets others know that they aren't alone. We can support and learn from each other. Please read through the stories. We highly encourage you to submit your Personal Story today!
ChitChat Group – ASPIRE ChitChats are online/in-person supportive meetings run by and for parents of kids with PANS and adults with PANS meeting to talk about PANS PANDAS.
We Aspire

to Advocate
School In-Service Lectures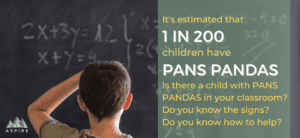 ASPIRE proudly launched an in-service program to educate schools on PANS PANDAS via zoom this year. We provide two in-services to schools. One is an Overview of PANS PANDAS in the School Setting geared towards all school staff. The second, we specifically designed for School Nurses. We have provided 19 in-services this year with about 250 people in attendance. We presented some in-services to single schools and others to all the schools in the state or district. After each in-service, every participant was provided with copies to ASPIRE's school materials. Plus, we are available to the attendees all year for questions. The feedback from schools has been phenomenal. And parents have written us thanking us for helping their school learn how to support their child appropriately!
"ASPIRE's presentation was exceptional. I had researched PANS/PANDAS for a year prior to this presentation and in one presentation, she was able to clarify the topic and provide a plethora of resources and information that will benefit our current and future students and their families tremendously. It is obvious that she is passionate about helping families and goes above and beyond to give of her time to provide needed care, expertise, and assistance. I am so grateful to have found Gabriella and ASPIRE and I will be keeping her on speed dial to reach out to her to help us in the future!!!"  -Counseling & Behavior Support Services
We Aspire

to Create Change



Legislative Support
ASPIRE assists State Leads to advocate for legislative change. We create State Pages on our website to serve as a home base for Call to Actions and then help states know that the time is now to act! ASPIRE also provides Testimony Letters to support bills. One is from the Board of Directors, and one is from our Professional Advisory Board. This year we wrote letters of testimony for six states. Lisa Hardy, ASPIRE'S Advisor to the Board, sits on the Texas PANS Advisory Board and has been integral in writing reports.
We Aspire

to Champion



Provider & Research Support
While more providers are learning about PANS PANDAS and beginning to treat it, there are not enough of them. So, providers our community relies on day in and day out have their hands full and need support to relieve some of that pressure. ASPIRE strives to do just that. Providers across the country often ask us to help with special projects in their clinics, ranging from editing pamphlets and books to providing educational materials for newly diagnosed families. We look forward to delivering materials to more doctors across the country in 2022! We also have a Provider Toolkit and a one-page Clinician handout available on our Information for Clinicians page, with all the resources they need in need in one spot.
Researchers also enlist ASPIRE's help in providing support in various areas of their research. For example, we have written letters supporting grants, interviewed researchers on their work, helped enlist study enrollees, interviewed for research projects, and more.
We Aspire

to Transform
Professional Advisory Board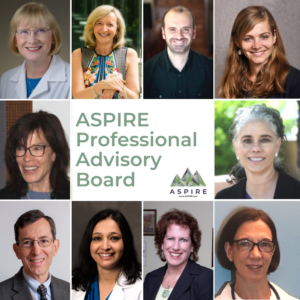 The ASPIRE Professional Advisory Board (PAB) is a multidisciplinary group from many of the country's top medical institutions, with extensive knowledge of PANS and PANDAS. Along with a very talented team of leading PANS/PANDAS clinicians and researchers, we are very fortunate to have Dr. Swedo serve as Chair of ASPIRE's Professional Advisory Board(PAB). They provide ASPIRE with credible, evidence-based information as well as an advanced understanding of research.
This year, the PAB and ASPIRE will continue to work on several projects that the community will use to understand PANS/PANDAS better. More tools you can use!
Achieving the ASPIRE Mission
We Aspire

to Improve
We launched a new national organization called ASPIRE, Alliance To Solve PANS and Immune-Related Encephalopathies in July 2019. We are experienced local, regional, and national nonprofit leaders building on lessons learned in our organizations. Our professional experiences in allied health professions, project management, and entrepreneurship guide our work.
We Aspire

to Empower
We are actively working to bring together the patient, parent, provider, and research communities acting as a conduit to connect the stakeholders who affect outcomes of those affected by PANS/PANDAS. ASPIRE is focused on providing practical tools to increase local, state, regional, and national advocacy efforts to accelerate improvements in access to diagnosis, treatment, and quality of life for affected individuals and families. We are collaborating with experts in their field to create national programs that will empower and connect our community with tools and resources for advocacy, education, support, and awareness.
Your Year-End donation will help to close the gap between the onset of symptoms and the start of appropriate treatment. We simply can't do it without you.
Your support will make a real, lasting impact on the lives of those who are still in need.