Lisa Hardy – 5 PANS PANDAS Tips/Advice
Lisa Hardy – Board Member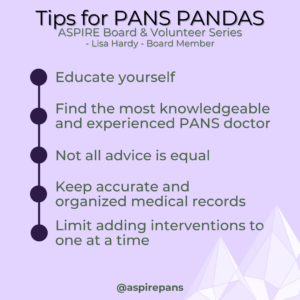 Educate yourself. You are your child's greatest health advocate, and the more you know, the better. (What is PANS PANDAS)
Find the most knowledgeable and experienced PANS doctor in your area and make an appointment as soon as possible since they are in demand and the wait may be lengthy. But know you may need to travel. (Provider list)
Not all advice is equal. Consider recommendations and advice from others, but remember, they do not know your child's unique medical history, and they are not professionals.
Keep accurate and organized medical records. It is essential to be able to provide a timeline of history and onset of illness. (Appointment Preparation)
Limit adding interventions to one at a time so you know what is helping. Remember, any change, including dose adjustment, is a change. Give interventions time to work and keep track of response. (Tracking & Rating Tools). Ask the doctor what improvements to expect with each intervention and a reasonable timeframe to expect that response.
---
Return to section: