Unstuck Summit
April 23, 2021

-

April 25, 2021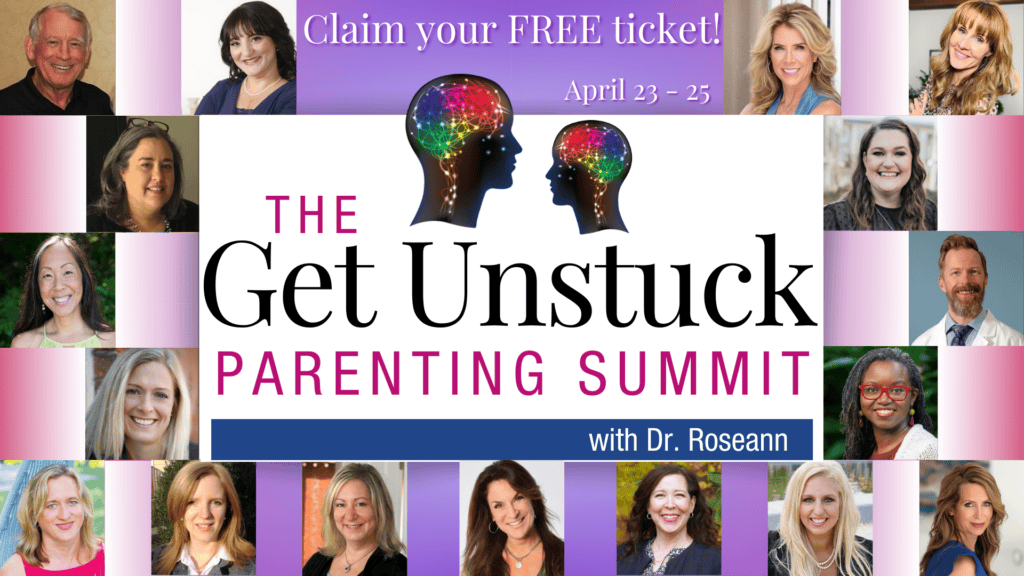 April 23-25
Your roadmap to breaking free from anxiety, ADHD, OCD, mood issues and behavioral problems
I think we can all agree that we are living through difficult times… I know how much harder things have been since 2020 – and still now in 2021 – and even more so if you're a parent whose kids are struggling with attention, learning, emotions, or behavior.
Our friend, colleague, and children's mental health expert Dr. Roseann is hosting a free event called The Get Unstuck Parenting Summit. You'll hear from trusted experts and from parents just like you, like ASPIRE's president, Gabriella True, who have found answers to help improve their child's behavior. Register for free right here!

If your kid is totally unfocused and unmotivated right now, you are not alone! If you are parenting children with ADHD, anxiety, OCD, PANS/PANDAS, Lyme Disease, depression, behavioral issues, learning disabilities, failure to launch, social media addiction, technology addiction, virtual learning difficulties, then you aren't alone either…
You'll get the solutions you are looking for and find out how to help your child's or teen's depression, anxiety, and attention challenges with safe, natural, and effective tools.
Sign up for the FREE Get Unstuck Parenting Summit to gain tips, tools, and techniques to help your kid get focused and learn!
Clips from the Get Unstuck Parenting Summit
Speakers
Gabriella True, Board President of ASPIRE for PANS/PANDAS
Dr. Tom Moorcroft, DO, Founder of Origins of Health and PANS/PANDAS/AE and Lyme and Tick-borne Disease Expert
Pete Wright, Esq. Special Education Law Expert, Founder of wrightslaw.com
Miranda Hope, TEDx Speaker and daughter of Bob Hope
Dr. Elisa Song, MD of Healthy Kids, Happy Kids
Cynthia Henry Thurlow, Women's Health Expert, TEDx Speaker with 8 Million Views
Robin McManne, Founder of Parenting for Connection
Dr. Debi Silber, Founder, The Post Betrayal Transformation Institute
Maria Rickert Hong, Author of Almost Autism
Beth Lambert, Director of Epidemic Answers and Author of A Compromised Generation
Dr. Krista Burns, Founder of The American Posture Institute
Becky Wells, Founder of the Hippie Moms Community
Faith Clark, Teamwork, Organizational, and Inclusion Expert
Nancy McDermott, LCSW, JD, Failure to Launch Expert
Diane Carlson, LCSW, Parenting, ADHD and Autism Expert