Enroll in UCONN Study – Families' Experiences with PANS
University of Connecticut Parents/Caregivers Wanted for a Research Study on Families' Experiences with PANS (Pediatric Acute-Onset Neuropsychiatric Syndrome)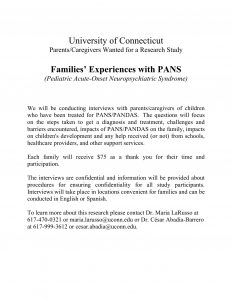 We will be conducting interviews with parents/caregivers of children who have been treated for PANS/PANDAS.  The questions will focus on the steps taken to get a diagnosis and treatment, challenges and barriers encountered, impacts of PANS/PANDAS on the family, impacts on children's development and any help received (or not) from schools, healthcare providers, and other support services.
Each family will receive $75 as a thank you for their time and participation.
The interviews are confidential and information will be provided about procedures for ensuring confidentiality for all study participants. Interviews will take place in locations convenient for families and can be conducted in English or Spanish. 
To learn more about this research please contact Dr. Maria LaRusso at 617-470-0321 or Dr. César Abadía-Barrero at 617-999-3612.